Vážení zákazníci, využijte našeho online předprodeje vozů a testovacích jízd až k vám domů. Více informací
ZDE
About HMSG
Established on 19 December 2012, Hyundai Motorsport GmbH (HMSG) is responsible for Hyundai's global motorsport activities and primarily for its World Rally Championship program. Based in Alzenau, Germany, the company has engineered Hyundai's return to the WRC with a bespoke team of skilled staff who are constantly developing the WRC-specification i20.
Car
N – Driven to perform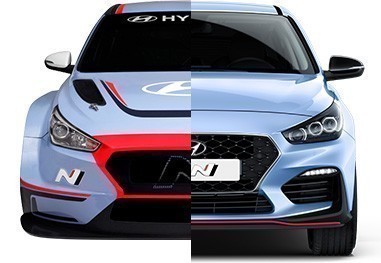 Based on the New Hyundai i30, both i30 N and i30 N TCR bring together the N logo and Hyundai Motorsport's traditional colours. The 'Performance Blue' that forms the base of the livery is, itself, part of the identity of the N line-up, with the same shade available on the i30 N, paying tribute to the liveries of Hyundai Motorsport's WRC cars.
Designed to be equally at home on the road and the track, i30 N brings Hyundai Motor's extensive motorsport experience and high-performance road car development together.
The N name carried by both the road and TCR design is inspired by the Nürburgring track, together with Namyang in Korea, home to Hyundai's global R&D Centre. The N logo represents a chicane, challenging for both the race drivers of the i30 N TCR, and those at the wheel of the i30 N.